TVO's strategy can be summed up as vision objectives that include safe operation, satisfied customers, successful projects, competitive operations, and a good work community. Strategic drivers are anticipation of changes in the operating environment, and customer orientation, good leadership, competence and the spirit of communal effort, as well as compliance with TVO's values and safety objectives. Factors that make the objectives possible and also provide added value include Olkiluoto integration, including the completion of the OL3 project and establishing its operation , Posiva's final disposal project, the high availability and maintenance of the OL2 and OL2 plant units, as well as the verification of human resources, competences and skills, and flexible and cost-efficient structures and operating practices. Satisfied customers, the predictable and competitive price of electricity and a strong safety brand are results of the strategy period 2020.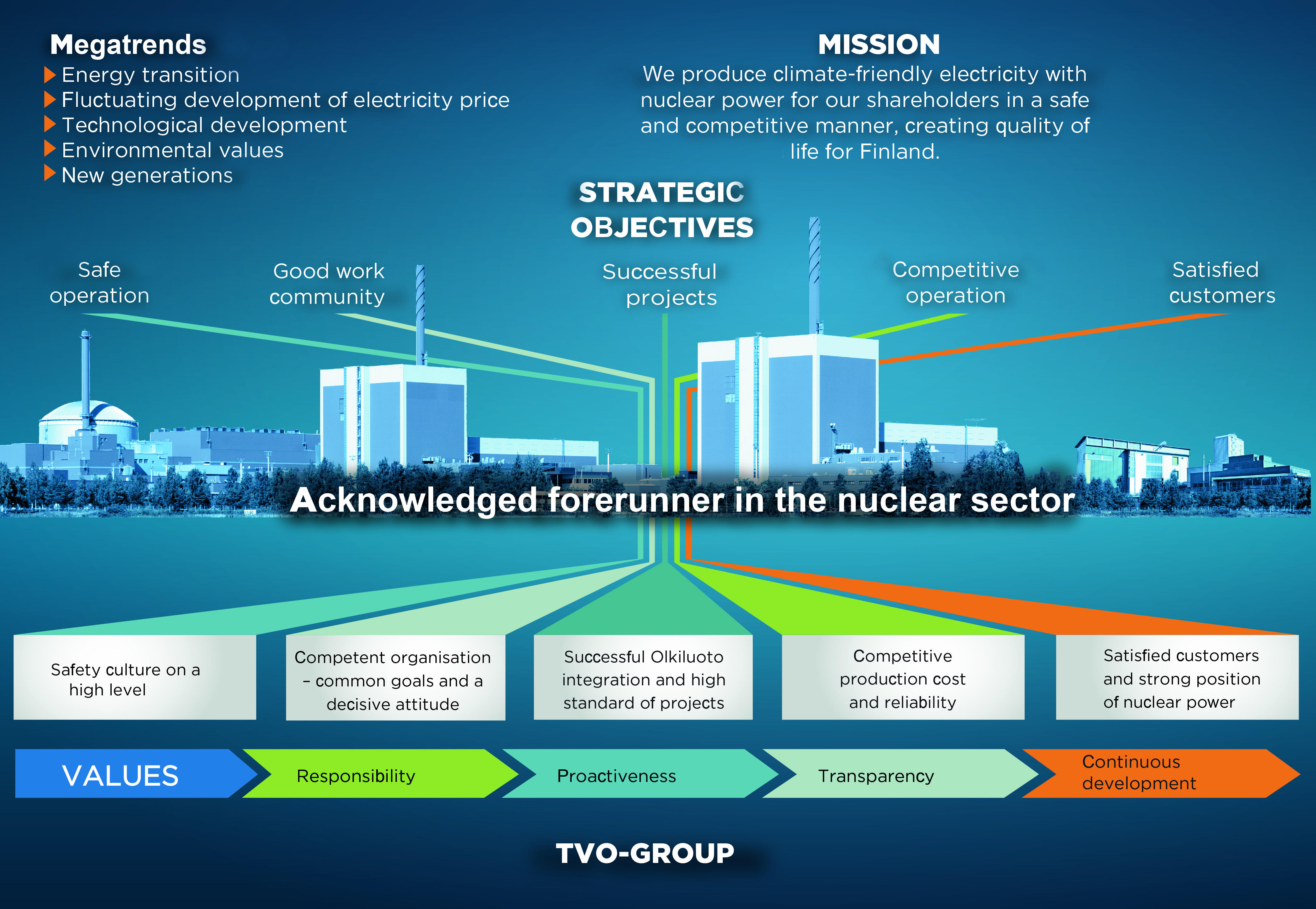 Responsibility program supports achievement of strategic goals
Together with the responsibility program, TVO's corporate social responsibility policy and its practical implementation form the core of the company's social responsibility efforts. The goals and actions included in the responsibility program support not only the strategic objectives of TVO, but also the aspects of TVO's operations revealed in the materiality matrix as important for stakeholders.
The materiality analysis is used to identify the most significant aspects that affect responsibility as concerns TVO's stakeholders and business operation. According to the materiality matrix that was updated in 2016, TVO's key responsibility aspects include a top-class safety culture, a good work community, securing owner value, creating wellbeing and jobs, ensuring achievement of the climate goals, and responsible business. The assessment was carried out based on discussions with the company's management, personnel and external stakeholders, and information received from opinion surveys. The responsibility program is closely monitored, and its results are reported under
Responsibility program .