​In Finland 80 percent of greenhouse emissions come from the production and consumption of energy. The energy industry plays an important role in controlling the climate change as any reductions in emissions impact significantly on the total emissions. This is why energy companies are expected to take action and assumed to take even bigger responsibility for the climate in the future.
Olkiluoto 3 EPR, which is to be completed next year, is a massive climate action of Teollisuuden Voima. In proportion to the total emissions, it is the most significant single climate action ever done in Finland. The OL3 plant unit is a remarkable step forward in terms of our national emission goals.
In climate elections and discussions decision makers should therefore remember their own role in securing a functioning energy market and the competitiveness of carbon neutral electricity production modes. Energy policy must encourage low emission production, regardless of the production mode. All means should be used to achieve climate goals.
Electricity production was started in Olkiluoto 40 years ago this autumn. Since then, nuclear power has grown into the most important energy production mode in our country. At the moment about 27 percent of the electricity consumed in Finland is produced by climate friendly nuclear power. After the start of the operation of Olkiluoto's third plant unit, nuclear power's share will rise to ca. 40 percent.
Nuclear power is also an important part of the energy system in the future. The operating licences granted by the Finnish government in September proves this: the operation of the OL1 and OL2 plant units will continue at least 20 more years until 2038.
The extension of the operating licences was a significant decision for our society. Together with renewable energy production, nuclear power plays a crucial role in the fight against climate change. Our people in Olkiluoto will soon produce up to 30 percent of all electricity in Finland. Reliable green energy. Every day.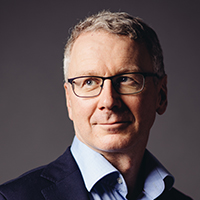 Jarmo Tanhua
President and CEO, Teollisuuden Voima Oyj