Busiest season of the year for "Heureka" in Olkiluoto
6.7.2017
​Finnish Science Centre Heureka has participated in the implementation of the Olkiluoto Visitor Centre which is located in the immediate vicinity of the nuclear power plant site and attracts almost 15 000 visitors every year. Late spring and early summer are the busiest season for the Visitor Centre in Olkiluoto.
​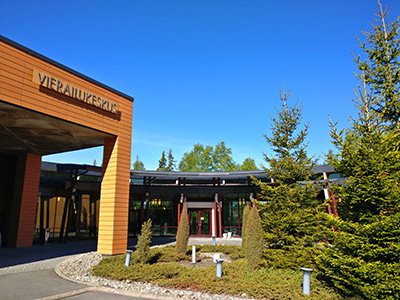 Spring brings the largest crowds of visitors, but thanks to the five-day long science camps in Olkiluoto, the Visitor Centre does not quiet down in the summer either. Also this year a hundred or so children enthusiastic about science take part in the camps.
Every Wednesday during the summer, until mid-August, the Centre is also open to visitor groups.
According to Mika Tanhuanpää, who is in charge of the visitor activities, Olkiluoto Visitor Centre offers a multitude of interesting things to see, and for most people the visit proves to be a pleasant surprise. The opportunity to also have a peek into the nuclear power site is a memorable experience for children and adults alike.
– All the visitors need to identify themselves before they can enter the plant site. The schoolchildren, in particular, find this very exciting. Driving in the groups' own buses to the underground ONKALO exhibition and the final repository for operating waste provides another fascinating experience.
The activities carried out in Olkiluoto are showcased to visitors also in the "Electricity from Uranium" science exhibition in the Visitor Centre. The exhibition that presents the journey of uranium fuel from bedrock to bedrock has been set up by Science Centre Heureka in cooperation with TVO.
Weather permitting, visitors can take a walk along the observation trail that runs round the Visitor Centre and acquaints visitors with the Olkiluoto area and the surrounding nature.
www.tvo.fi/Come-and-visit-us
www.facebook.com/olkiluodonvierailukeskus
#visitolkiluoto