Well-being with nuclear electricity
Teollisuuden Voima Oyj (TVO) is an energy company that produces electricity at two plant units (OL1 and OL2) in the nuclear power plant in Olkiluoto in the municipality of Eurajoki.

Posiva Oy, a company included in the TVO Group, is an international pioneer of final disposal in the lifecycle management of spent nuclear fuel. Posiva is preparing for the commissioning of a facility for the final disposal of nuclear waste in Olkiluoto in the 2020s.


Nearly one third of Finnish electricity from Olkiluoto after completion of OL3
The existing nuclear power plant units in Olkiluoto produce stable, non-weather dependent electricity for the industry, the services sector and households. With the completion of the new-generation power plant unit (OL3) under construction, Finland will take a long leap towards self-sufficiency in electricity production.

Emission-free nuclear power that is not dependent on conditions helps to achieve Finland's challenging climate targets. With the nuclear electricity produced by TVO, we can avoid millions of tons of carbon dioxide emissions every year compared with the production of the same amount of electricity with coal.


40 years of electricity for Finnish needs
TVO is a limited liability company founded in 1969. The nuclear power plant operated by TVO in Olkiluoto in the municipality of Eurajoki has produced electricity for Finnish consumption for 40 years in autumn 2018. The Olkiluoto 1 and 2 plant units were constructed to satisfy the growing electricity demand of the Finnish energy-intensive industries. Over the past few decades, TVO has developed from an industrial resource to a base load power producer that benefits society as a whole. Today, the Olkiluoto power plant produces approximately one sixth of Finland's total electricity consumption. Through its direct owners, TVO's nuclear electricity brings well-being to 132 municipalities. These municipalities are shareholders in more than 50 energy companies that serve as a route for distributing electricity from Olkiluoto throughout Finland. TVO's biggest shareholder is Pohjolan Voima Oy with a 58.5 percent shareholding in TVO.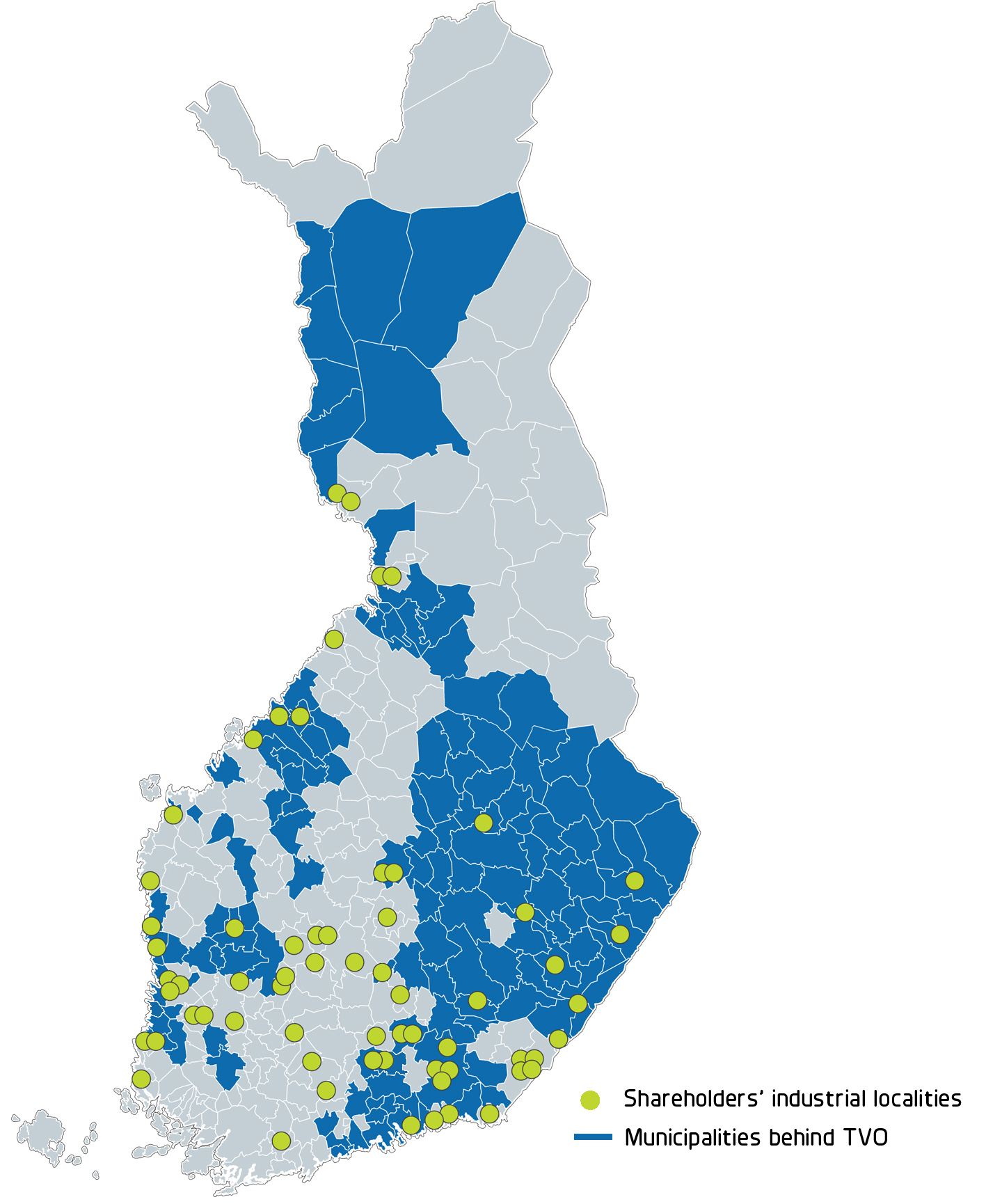 World-class reliability
OL1 and OL2 rank among the best nuclear power units in the world in terms of reliability. Olkiluoto plant units have produced an approximate total of 481 billion kilowatt-hours (kWh) of climate-friendly electricity. With the nuclear electricity produced by TVO, we can avoid carbon dioxide emissions of 11 millions of tons every year compared with the production of the same amount of electricity with coal. This amount corresponds to the total annual carbon dioxide emissions of all road traffic in Finland. The calculation is based on the emission factors indicated by IPCC (Intergovernmental Panel on Climate Change).

On Olkiluoto Island, TVO has in place all the competence, structures, functions, and waste management required for the safe production and construction of nuclear electricity. TVO's nuclear power expertise and operating experience attract worldwide interest in the nuclear sector. In addition to the facilities in Olkiluoto, TVO has an office in Helsinki and a branch office in Pori.



The Olkiluoto site also features a 100 MW reserve power plant built as a joint project of Fingrid Oyj and TVO.