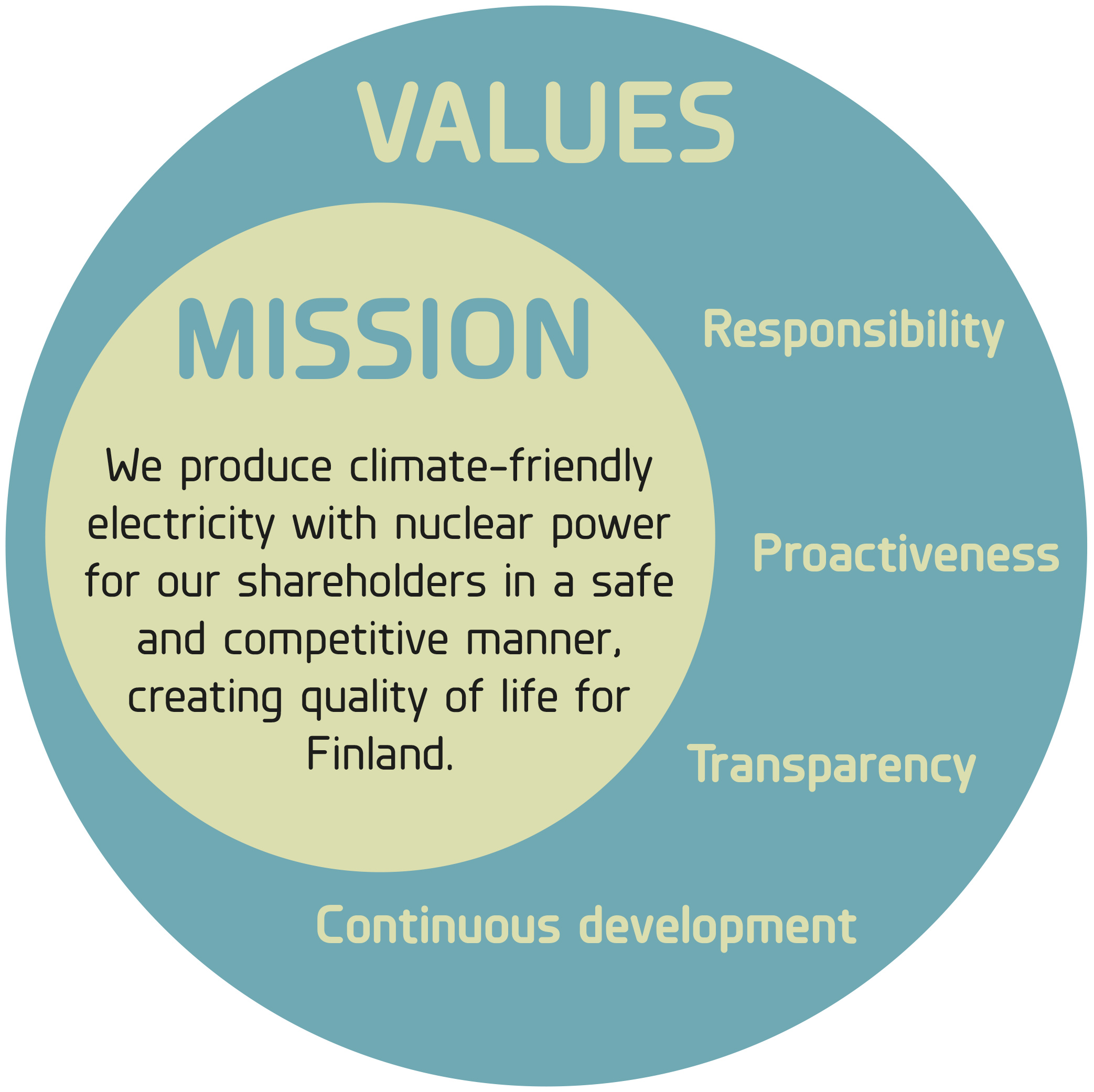 The most important aspects of responsibility are dealt with in the meetings of the Board and the Committees appointed by the Board from among its members; the Nuclear Safety Committee, for example, deals with matters related to the promotion of the safety culture. The Audit and Finance Committee monitors the development of the shareholder value, among other things. The work of the OL3 Committee focuses on the monitoring and promotion of the power plant project designed to ensure the supply of electricity in Finland and a positive impact on climate.


The management of and the efforts taken in relation to the most significant aspects of responsibility concern the entire organisation of TVO, including the Management Group as well as the Business Units and the service functions. The President & CEO of the Company is responsible for the responsibility objectives and policies of the Company, and they are dealt with and approved by the Management Group. The Management Group is in charge of the implementation of the strategy, strategic projects and objectives as well as the development of future business opportunities. The Management Group also assists the President & CEO in the planning and management of the strategic operation of the TVO Group. The Specialist in Corporate Responsibility Communication presents responsibility matters to the Management Group – development efforts, monitoring and reporting. TVO's Communications, the Specialist in Corporate Responsibility Communication and the Senior Vice President in charge of Corporate Relations monitor and develop the Company's responsibility policy, and the practices and procedures related to the Code of Conduct, and communicate information about responsibility to the management, personnel and stakeholders of the Company.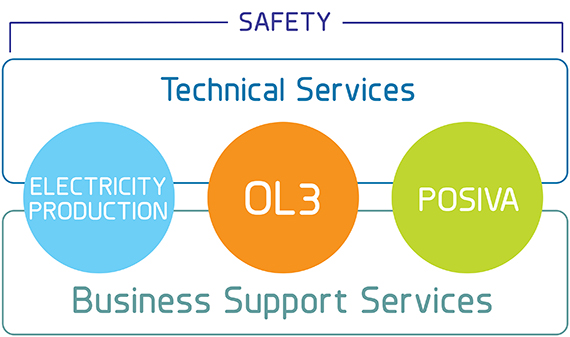 TVO's management approach and its components
TVO is deeply committed to responsibility
Values, materiality analysis, Company-level policies, internal procedures and external commitments have a steering effect on the leadership of financial, environmental and social responsibility. TVO's Code of Conduct is based on the 2011 updated version of OECD's code of conduct guidelines for multinational enterprises. TVO honours the Business Charter for Sustainable Development of the International Chamber of Commerce (ICC). TVO also participates in the Energy Efficiency Agreement Scheme of the Finnish Government and various sectors and industries, and complies with the associated Action Plan for Energy Production that describes the implementation of actions designed to make the use of energy more efficient and to improve the efficiency of primary energy use as well as the total performance of energy production.
For every TVO employee, responsibility as a value translates into uncompromised quality of work, actions that meet high safety requirements, and compliance with agreed and valid rules. The personnel of TVO are committed to an uncompromising safety culture and the entire personnel are expected to foster this culture.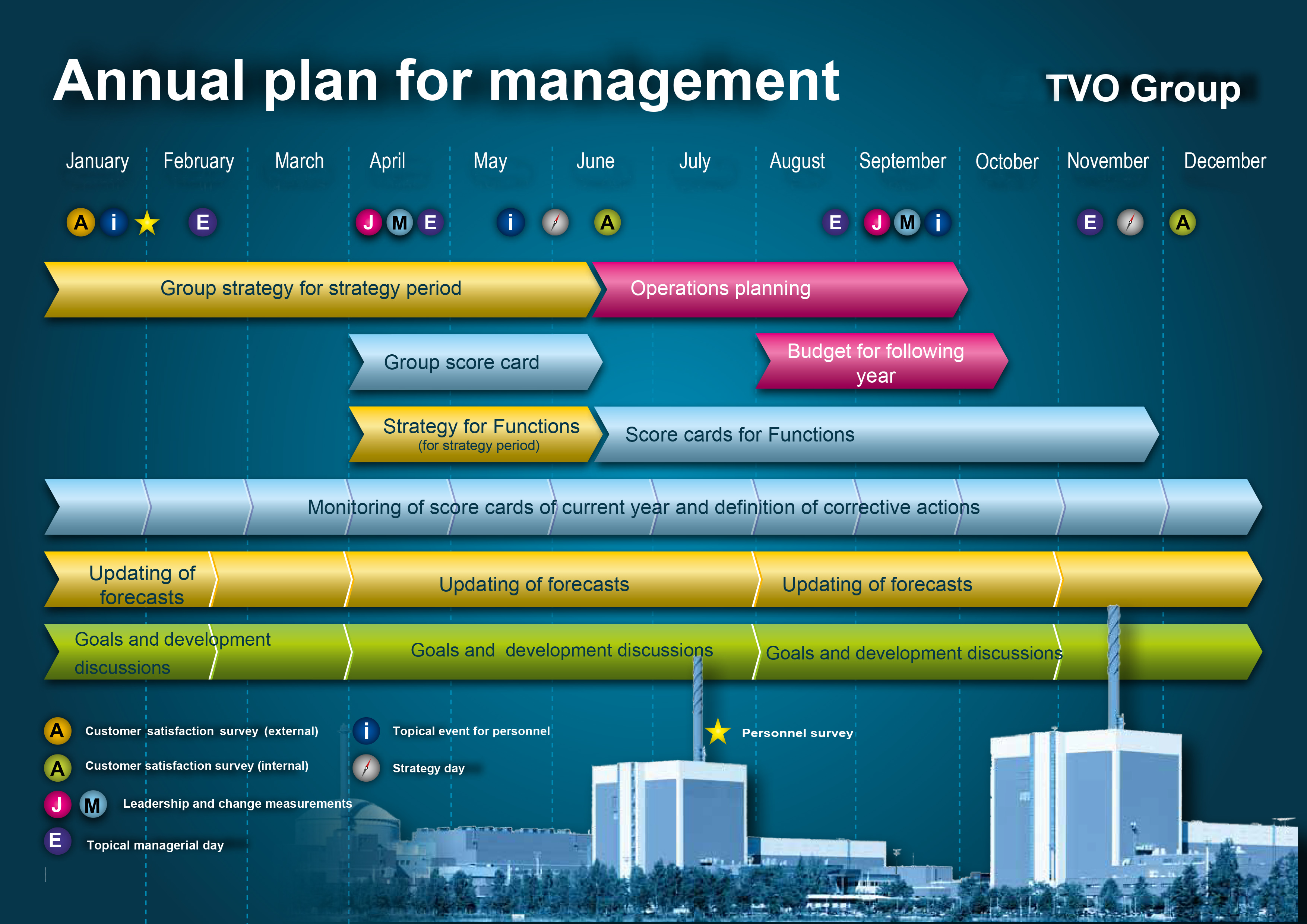 The aspects of responsibility are in TVO's organisation and the Organisation Manual dealt with by specific Work Groups:
| | |
| --- | --- |
| Most significant responsibility aspects | TVO organisations and Work Groups dealing with the matter |
| Safety culture | Safety Group, Fuel Group, Occupational Safety Group, ALARA Group, Safety Culture Group, Management Group of Corporate and Information Security, CAP Group, Plant Meeting, Ageing Management Group, Research and Development Group, Steering Group of Engineering and Expert Services, Outage Group, Operating Experience Group, Competence Centre for Finance |
| Good work community | Occupational Safety Group, ALARA Group, Competence Centre for HR, Competence Centre for Communication |
| Shareholder value | Risk Management Group, Steering Group of Engineering and Expert Services, Competence Centre for Finance, Competence Centre for Communication |
| Supply of electricity in Finland and climate impact | Environment Group, Energy Efficiency Group, ALARA Group, Environmental and Nuclear Waste Management Research Group, Research and Development Group, Chemicals Work Group, Competence Centre for Communication, Risk Management Group, Regulations Amendments Work Group |